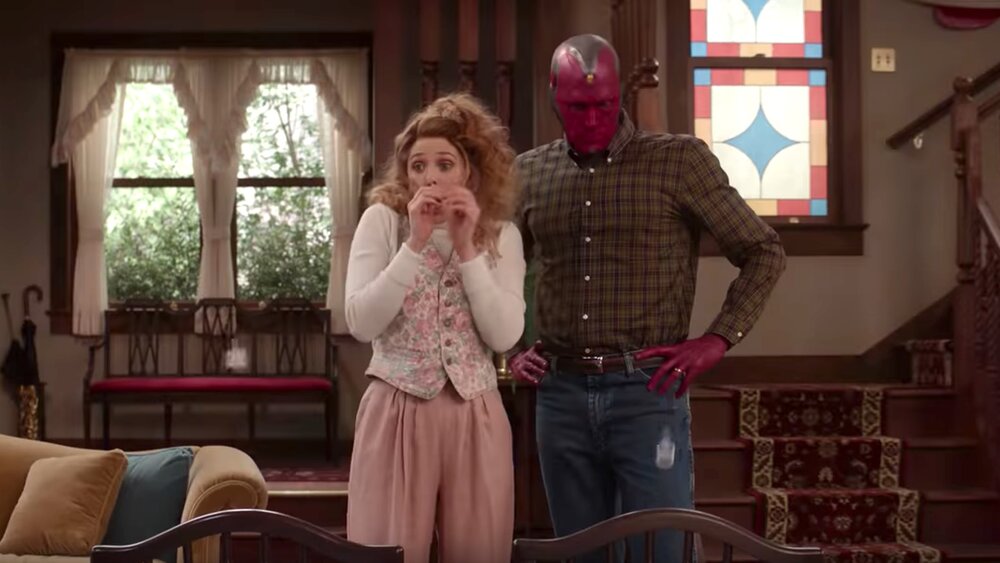 We have gotten little bits of info regarding the multiple upcoming Disney+ Marvel series headed to the streamer, but besides small plot outlines and a few photos, they have remained largely under wraps. It's especially frustrating with the fact that we are facing pandemic-related setbacks, and our favorite shows and movies we are looking forward to seeing so far off.
But a recent rumor from industry scooper Charles Murphy reveals that the series WandaVision will be adapting the "Avengers story arc that follows Wanda as she travels the world in hopes of piecing Vision back together. Ultimately, this leads to the 'white' Vision some thought we may get in either Avengers: Infinity War or Avengers: Endgame. Now that we know Vision somewhat looks like, thanks to him being stripped of color due to a missing Mind Stone, the look is closer to reality than ever."
Murphy said of the series:
"We've long been aware that WandaVision will be taking place both in what seems to be an altered reality (inside the TV) and in the real world where organizations like S.W.O.R.D. have a presence. It looks like one of the subplots in the real world centers on Wanda going Humpty Dumpty and trying to reassemble Vision after his parts have been scattered around the world. This is the part where a little context would go a long way but, unfortunately, none exists."
This would definitely be an interesting route to take. I think no matter which way they go, it's going to be a super interesting story that will be so cool to see folded into the upcoming Marvel movies. How do you think WandaVision is going to play out?
---
Download Nyuscape #Blog Magazine App to get the latest updates and #news in the #entertainment world and #technology scene. Download on #huawei#appgallery Today!
SHIFT TO A SAFER SECURED WEB BROWSER! PROTECT YOUR PASSWORDS AND OTHER PERSONAL INFORMATION.
FREE lifetime ACCESS:
LIMITED EDITION EBOOKS PRICE DROPPED!
Free to paid Ebooks at a very affordable yet quality offers/ products. Visit Today! Get discounts if you checkout today!
Digiversity Health and Lifestyle
Information Investors FREE Online Course